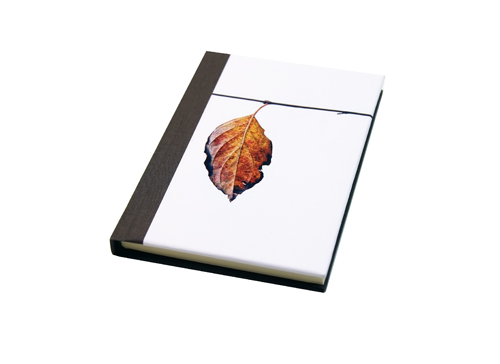 Notebooks
Handmade Book "Leaf Droplet"
This unique blank book can be used as a journal, sketch book or a notebook to jot down any thoughts you might want to save for later.
The leaf on the cover is photo transferred directly onto the cover.
The following five formats are available:

Blank book small: 10x15 cm, 70 sheets (140 pages): 16 GBP
Blank book large: 15x21 cm, 80 sheets (160 pages): 20 GBP
Address and telephone book: 10x15 cm, 46 sheets (92 pages): 16 GBP
Weekly calendar (2 pages=week): 10x15 cm, 80 sheets (160 pages): 20 GBP
Daily calendar (1 page=day): 15x21 cm, 230 sheets (460 pages): 24 GBP
The book can be personalised with a name or short text for only 5 GBP extra.